Save the Date!
National Area VII Show
We are delighted to announce that we have been awarded the 2020 National Area VII show. It will be at Murieta Equestrian Center April 17-19, 2020. Details will be available soon!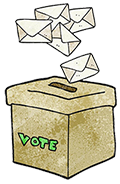 Please Vote!
Ballots for the election of the 2020-2022 Area VII Board of Directors will be in the mail soon. Please take the time to mark your ballot and return it in the stamped, self-addressed envelope provided. Ballots will be counted, and the new officers will be installed, at the General Membership meeting on Saturday, January 25, tentatively scheduled to be held at Murieta Equestrian Center. We'll post an announcement when the details are finalized.

Membership—Join or Renew Now!
Our members are our most valuable resource. Please join or renew your membership for 2020 now!
Download the 2020 Membership Form (PDF) and send it with your payment to the address on the form.
Questions? membership@areaviiclub.com.
Welcome 2019 New Members
Morgan Crouch, Watsonville, CA
Patricia M. Dempsey, Beloveds Farm, Lady Lake, FL
Joyce Ebert, WalkingBear Farm, Oak Run, CA
Eric, Marc, and Delaney Kahn, Kahnderosa Ranch, Sutter Creek, CA
Cindy and Harold Lease, Desert Angel Miniatures, Fallon, NV
Kathleen Lipelt and Sarah, Alice, and Paul Lucchetti, Lockeford, CA
Stacy Sachen and Riley, Anivia Equine, Park City, UT

See our current membership list
2019 Sponsors
Pat and Linda Anastasio
Bellota Miniature Horses

Christine and Emma Caringello
Caringello Farms

Kathy Courtney and Anna Pisarski
Red Star Ranch, LLC

Jacob Elliott and Richard Erickson
Double E Ranch

Dennis and Jan Haney
Half Measures Ranch

Jean M. Hayunga
Black Mountain Miniatures

Dianne Jarvis

Cindy and Harold Lease
Desert Angel Minis

Ken and Julie Mabie
Whisper Equestrian Center

Charlene Palmer
JCP Miniatures

Marcy Parsons Family

Kathie Peterson
Donka Miniature Horses

Maxine Richey
Double E Ranch

Michelle Sharrock
Wesco Farms

Nancy Turner
Tomahawk Ranch

Sherry Ward
Meadowlark Barn

Jill Wright
Area VII Club Video
Note: If you do not see the video frame below, you need to install Adobe Flash player, or use this link
Many thanks to Larry Connolly and John Killacky.
© 2009 Larry Connolly
| | | |
| --- | --- | --- |
| Area VII is an ASPC/AMHR/ASPR registered and recognized club | Keep in touch with other members and share your news and photos on the Area VII Facebook page. | |