Holiday Social & Annual Meeting
Saturday, December 10, 12:00 pm–3:00 pm
Round Table Pizza
888 Alamo Drive, Vacaville, CA
Holiday Social: We'll start things off promptly at noon with our "Secret Santa" gift exchange (limit $10), and enjoy pizza and soda. There will be a nominal charge of $7 per person to help cover expenses. Guests are welcome.
Annual Meeting: The meeting will begin at 1:00 pm. We'll discuss the planning that is in progress for our upcoming California Classic 2017. There is a lot to do, and we're looking for folks to help with sponsorships, product donations for the exhibitor bags, and more! We also have an election coming up, and will ask for nominations for two Directors for our 2017-2018 Board of Directors.
Please plan on joining us! The Round Table Pizza is in the Alamo Shopping Center just off I-80 in Vacaville.
Please RSVP by Dec. 8 to:
Michele Nelson, (510) 326-6487
membership@areaviiclub.com
We Need You!
Please Renew Your Membership
Our members are our most valuable resource. Its time to renew your membership for 2017. Renewing is easy! Just download the membership renewal form (PDF) and send it with your payment to the address on the form.
New Members Welcome!
Area VII needs you! Download the Membership form for new members (PDF) and send it with your payment to the address on the form. Your membership will be effective immediately and will be valid through December 31, 2017.
Questions? Call Michele Nelson at (510) 326-6487, or email membership@areaviiclub.com.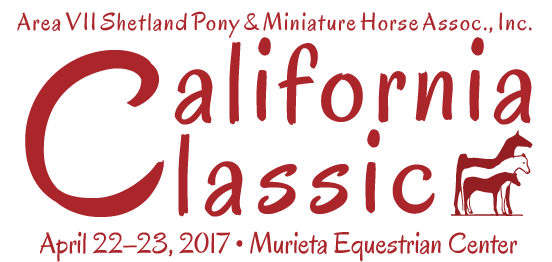 Save these dates! We've signed a contract with Murieta Equestrian Center for our California Classic 2017, which will take place April 22–23, 2017. We're looking for volunteers to help with planning and sponsorships. Please check out the California Classic 2017 Web page for details.
Welcome New Members
Sue Grant Duffield of Rivers End Farm in Healdsburg

Judith Peterson of Vacaville

Rachel Sanders of Vacaville

Kim Sterchi of Sierra Ranch in Grass Valley

Kandi Griffith of Valley Springs

Diane Dorigan of Medford, OR

Jennifer, Adelyn, and Avery Rowland of Hunterberry Hill Farm, LLC, in Salem, OR

Beth Rounsevell of Royal Oaks

Isabell Rodrigues of Fort Worth, TX

Heidi Jensen Arau of Corralitos

Yvette Miller of Petaluma

Jamie Bethany of Jacksonville, OR

Lynne Francis and Irene Baldwin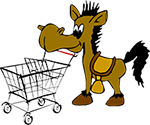 Buying or Selling?
Area VII Members
Advertise your horses, ponies, equipment, etc. on our For Sale pages. 100 words and a photo, only $5 for 3 months.
Thanks to our Sponsors
2016 Member Sponsors:
Pat and Linda Anastasio • Pam Brown • Lynn and LeRoy Burnham • Gail Byrnes
Casey Campbell • Christine and Emma Caringello • Jacob Elliott and Richard Erickson
Lois Evans • Dennis Haney • Jean M. Hayunga • Heidi Jensen Arao • Jim and Vicki Killfoil
Ken and Julie Mabie • Cindy McPike, Cameron Nelson, and Kira Nelson • Pat Michielssen
Mark and Michele Nelson • Charlene Palmer • Kathie Peterson • Kristy Pruett
Penny and Richard Radulovich • Sharon Rapadas • Nancy Resetar
Sheryl Rodda • Isabell Rodrigues • Michelle Sharrock • Nancy Turner
Cynthia Villarimo • Marjorie Vliet • Lauren Vucinich
Area VII Club Video
Note: If you do not see the video frame below, you need to install Adobe Flash player, or use this link
Many thanks to Larry Connolly and John Killacky.
© 2009 Larry Connolly