April 21– 22, 2018 • Murieta Equestrian Center
Judges: Jim Curry and Kim Sterchi
It's Showtime!
Move-in at Murieta Equestrian Center starts Thursday, April 19 at noon! Stall charts can be viewed and downloaded from the California Classic 2018 page
Saturday Night Social
Join us in the main arena breezeway on Saturday evening from 6:30 pm–8:30 pm and enjoy a selection of hors d'oeuvres, desserts, and beverages while visiting with your friends and fellow exhibitors. Tickets are only $10—a limited number of tickets will be available for purchase at the show.
Important Update: Richard Petty has had to bow out of judging this show due to health problems. Fortunately, Jim Curry has agreed to step in to replace Richard. We send our best wishes to Richard, and a heart-felt thanks to Jim.
Entries: Pre-entries were due Friday, April 6 (postmark), but you can still enter at the show. There is a $25/horse post-entry fee. Please note: if your horse is already entered and you want to add classes, no post-entry fee will apply. If you have questions, please contact Rinda Pullen, Show Manager, (425) 231-7464. Download the premium (PDF).
See the California Classic 2018 page for more information.
Please Renew Your Membership
Renew Your Membership for 2018

Our members are our most valuable resource. Renewing is easy! Just download the membership renewal form (PDF) and send it with your payment to the address on the form.

New Members Welcome!

Area VII needs you! Download the membership form for new members (PDF) and send it with your payment to the address on the form.
Questions? Call Michele Nelson at (510) 326-6487, or email membership@areaviiclub.com.
Welcome 2018 New Members
Melissa Berschens, Silver Buckle Services, Somerset
Christine Morse, LSC Minis, Lodi
Stephanie Jumper, LSC Minis, Lodi
Elizabeth Pride, LSC Minis, Lodi
Charmayne and Jon Zucker, Rockin Z Miniatures, Reno, NV
See our current membership list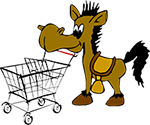 Buying or Selling?
Area VII Members
Advertise your horses, ponies, equipment, etc. on our For Sale pages. 100 words and a photo, only $5 for 3 months.
Thanks to our 2018 Sponsors
Pat and Linda Anastasio, Bellota Ranch
Melissa Berschens, Silver Buckle Services
Susan Browning-Wroe, Marvin Wroe, Robert and Lynn Blackwell,
and Daniel Benner, Ravenstar Farm
Gail Byrnes, A&G's Dreamcatcher
Christine and Emma Caringello, Caringello Farms
Kathy Courtney, Red Star Ranch, LLC
Jacob Elliott and Richard Erickson, Double E Ranch
Dennis and Jan Haney, Half Measures Ranch
Jean Hayunga, Black Mountain Miniatures
Suzette Hutchins, Wild Streaks Leatherworks
Linda Andrews Gray and Debbie Andrews Marshall,
in memory of Pat Michielssen
Heidi Jensen Arao, Faerie Glen Pony Farm
Vicki and James Killfoil, Lost Spur Ranch
Stephanie Jumper, Christine Morse, and Elizabeth Price, LSC Minis
Ken and Julie Mabie, Whisper Equestrian Center
Mark and Michele Nelson
Charlene Palmer, JCP
Richard and Penny Radulovich, Radulovich Farms
Maxine Richey
Michelle Sharrock, Wesco Farms
Paul and Ailene Tarap
Nancy Turner, Tomahawk Ranch
Cynthia Villarimo, Kai Moore, and Mary Gilligan Villarimo,
Redwood Acre Ranch
Jill Wright
Charmayne and Jon Zucker, Rockin Z Miniatures
Area VII Club Video
Note: If you do not see the video frame below, you need to install Adobe Flash player, or use this link
Many thanks to Larry Connolly and John Killacky.
© 2009 Larry Connolly
| | | |
| --- | --- | --- |
| Area VII is an ASPC/AMHR/ASPR registered and recognized club | Join the Area VII group on Facebook | |