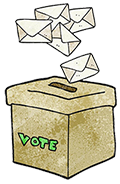 Election for Board of Directors
The election for the Area VII Board of Directors for 2022–2024 will take place in December. All Executive Officers' positions (President, Vice President, Secretary, and Treasurer) need to be filled, as well as two Directors. We need a diverse group with many interests represented to lead our club. If you are interested in serving as a member of our Board, please send email to membership@areaviiclub.com. Nominations are due by November 15, and ballots will be mailed in December. For details about the duties of the Board, please see Article III of the Area VII Bylaws.

Now Is the Time to Join Us or Renew Your Membership
Join or renew your membership for 2022 now! Simply download the Membership Form (fillable PDF) and send it with your payment to the address on the form. You can also pay your annual membership and club sponsorship via PayPal using the buttons below. Please fill out the membership form, check "PayPal" as the payment option, and send us the form via email to membership@areaviiclub.com or postal mail to the address on the form.
Welcome New Members
Pamela Bailey, Pahrump, NV

Sherry Barnard, Watsonville, CA

Lisa Brostad, Eagle Point, OR

Christine Deghi, Occidental, CA

Chelsea, Tom, Savannah, and
Scarlet Draper, Santa Rosa, CA

Kati and Peyton Eveland, Vacaville, CA

Katie and Josh Hansen, Hillsboro, OR

Brenda and Bob Kane, Vacaville, CA

Christina Klein-Ellis, Phoenix, AZ

Kathy LeBaron and Mary Morrison-Bundy, Apple Valley CA

Anna and Carrie McCarthy, Sherwood, OR

Katherine and Livi O'Bryan,
Sebastopol, CA

Barbara Pruett, Payson, AZ

Nikki and Scott Ryan, Paso Robles, CA

Amanda Sannes, Anaheim, CA

Jessie Skerjanec, Estacada, OR

Tracy and Haley Yost, Vacaville, CA

Belinda Young, Hidden Valley Lake, CA
2021 Club Sponsors
Pat and Linda Anastasio
Bellota Ranch

Melissa Berschens
Silver Buckle Services

Christine Caringello and
Emma Caringello Roberts
Caringello Farms

Ted and Becky Horat
5 Star Miniatures

Pamela Mclean-Brown
Twin Cities Tack and Consignment

Ken and Julie Mabie
Whisper Equestrian Center

Charlene Palmer
JCP Miniatures

Bill Perkins
In Memory of Jan Perkins

Kathie Peterson
Donka Miniature Horses

Nikki and Scott Ryan
Driving Hearts Miniature Farm

Michael Scott

Michelle Sharrock
Wesco Farms
Area VII Club Video
Many thanks to Larry Connolly and John Killacky.
© 2009 Larry Connolly
| | | |
| --- | --- | --- |
| Area VII is an ASPC/AMHR/ASPR registered and recognized club | Join the Area VII Facebook Group to keep in touch with other members and share your news and photos. | |