Join Us or Renew Your Membership Now!
Join or renew your membership for 2022 now! Simply download the Membership Form (fillable PDF) and send it with your payment to the address on the form. You can also pay your annual membership and club sponsorship via PayPal using the buttons below. Please fill out the membership form, check "PayPal" as the payment option, and send us the form via email to membership@areaviiclub.com or postal mail to the address on the form.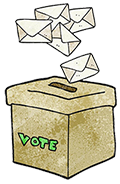 Please Vote!
Ballots for the election for the Area VII Board of Directors for 2022–2024 have been mailed to all 2021 members. Please take the time to mark your ballot and return it in the stamped, self-addressed envelope provided. Ballots will be counted, and the new officers will be installed, at the General Membership meeting on Wednesday, January 26 at 6:30 p.m. This will be a virtual meeting via Zoom. The link will be emailed to members before the meeting.

Welcome New Members
Camryn Day and Vicki Veiga, Roseville, CA
Vicki, Dennis, Kylie, and Alyssa Tarap, Angels Camp, CA
2022 Club Sponsors
Ken and Julie Mabie
Whisper Equestrian Center
Area VII Club Video
Many thanks to Larry Connolly and John Killacky.
© 2009 Larry Connolly