Save the Date!
National Area VII Show
We are delighted to announce that we have been awarded the 2020 National Area VII show. It will be at Murieta Equestrian Center April 17-19, 2020. Details will be available soon!
General Membership Meeting
Saturday, January 25 at Murieta Equestrian Center
This meeting is open to all members and guests. The Show Committee will meet at noon and the general meeting will begin at 2:00 p.m.
We will meet in the new building in the middle of the grounds. This new building features an indoor/outdoor cafe and bar, as well as offices and a board room. We're looking forward to checking it out!
The meeting agenda will include:
Counting the ballots from the election and welcoming new and/or returning Directors to our Board.
Status report on the National Area VII show scheduled for April. We need volunteers to help with fundraising, promotion, social events, and more. Can you help?
Discussion of other club activities in 2020.
Please join us! We need our members to help us plan for 2020 and beyond.
For more information or to suggest an item for the agenda, contact: Jacob Elliott, (916) 479-0962.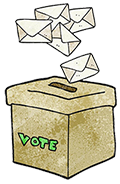 Please Vote!
Ballots for the election of the 2020-2022 Area VII Board of Directors have been mailed. Please take the time to mark your ballot and return it in the stamped, self-addressed envelope provided. Ballots will be counted, and the new officers will be installed, at the General Membership meeting on Saturday, January 25, at Murieta Equestrian Center

Membership—Join or Renew Now!
Our members are our most valuable resource. Please join or renew your membership for 2020 now!
Download the 2020 Membership Form (PDF) and send it with your payment to the address on the form.
NEW! Now you can pay your annual membership and club sponsorship through PayPal using the buttons above. Please fill out the membership form, check "PayPal" as the payment option, and send us the form via postal mail or email to membership@areaviiclub.com.
2020 Sponsors
Pat and Linda Anastasio
Bellota Miniature Horses

Melissa Berschens
Silver Buckle Services

Gail Byrnes
Mini Dreamcatcher

Jacob Elliott and Richard Erickson
Double E Ranch

John Gracey and Shelia Bryant
Appy Downs

Heidi Jensen

Ken and Julie Mabie
Whisper Equestrian Center

Michelle Sharrock
Wesco Farms

Nancy Turner
Tomahawk Ranch
Area VII Club Video
Note: If you do not see the video frame below, you need to install Adobe Flash player, or use this link
Many thanks to Larry Connolly and John Killacky.
© 2009 Larry Connolly
| | | |
| --- | --- | --- |
| Area VII is an ASPC/AMHR/ASPR registered and recognized club | Keep in touch with other members and share your news and photos on the Area VII Facebook page. | |